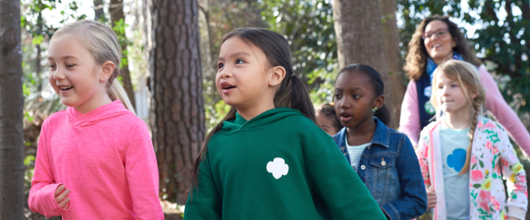 When you just can't wait for what you'll do next, you can do anything!
At Girl Scouts, girls are always counting down to the next adventure they'll go on together. Maybe it's artistic. Maybe it's an experiment. Maybe it's getting outside or helping the community. 
With us, the possibilities are endless, and you'll make a bunch of new friends who just can't wait to go with you. Together, you'll find out you're capable of more than you ever imagined. 
So what are you waiting for?
 


Need to know more to help you decide what's right for you? Check out all the different ways to have fun at Girl Scouts. Or, see all the exciting possibilities Girl Scouts offers for girls of all ages and choose your adventure.
Be the role model she'll remember forever. Check out ways to volunteer.

* Please note, online membership registration and background checks will not be available until Tuesday, March 15.  To complete either membership registration or background checks, please use submit pdf forms to the council office. 

Need to log in to see your membership or troop information? You can access your membership or troop information Tuesday, March 15.
2016 Membership Forms (October 1, 2015 - September 30, 2016)
2017 Membership Forms (October 1, 2016 - September 30, 2017)