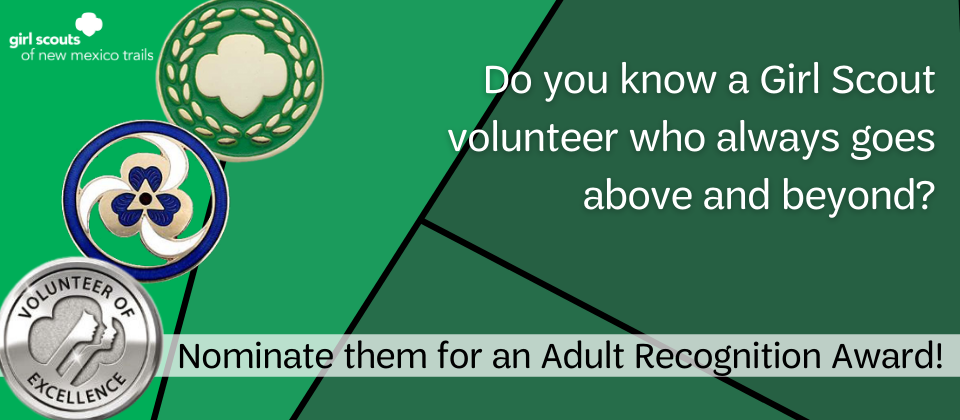 Recognition & Awards
Showing love and appreciation for volunteers is a powerful Girl Scout tradition. After all, our volunteers are ah-mazing. Let's be sure to shout it from the rooftops—take a moment to nominate a fellow Girl Scout who has made a difference!
Nominations are due by January 31 every year and awards will be presented at the following Adult Recognition Ceremony.  
Save the Date: 2017 Adult Recognition Ceremony is April 22, 2017 at the Indian Pueblo Cultural Center.
Nominate Volunteers and Community Partners Today!
2016-2017 Volunteer Recognition nominations closed January 31, 2017.

Volunteer Recognition Awards
Appreciation Pin for outstanding service to at least one community.

Honor Pin for outstanding service to two or more communities. 

Thanks Badge for outstanding service that benefits the entire council or Girl Scout community.

Thanks Badge II for outstanding service council-wide or beyond having already received the Thanks Badge.

Volunteer of Excellence Award for outstanding service while working directly with girls.

Juliette Low Leadership Award for outstanding service working directly with girls over an extended period of time.
Trails of Leadership Award
Circle of Achievement
Circle of Excellence
Teola Artman Award
Star Trainer
Numeral Guard Pin 
President's Volunteer Services Award FAQs
Community Service Award 
Council Service Award