Gold Award Girl Scouts
Issues of the world, meet your match. 

Gold Award Girl Scouts are the dreamers and the doers who take "make the world a better place" to the next level.
The Girl Scout Gold Award is the the mark of the truly remarkable—proof that not only can she make a difference, but that she already has.
Seniors and Ambassadors who earn the Gold Award tackle issues that are dear to them and drive lasting change in their communities and beyond. Think of the Gold Award as a key that can open doors to scholarships, preferred admission tracks for college, and amazing career opportunities.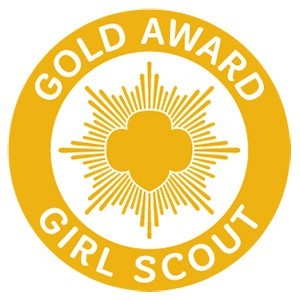 You can pursue your Girl Scout Gold Award if:
 

You're in high school (ninth through twelfth grade, or equivalent) 
 

You're registered as a Girl Scout Senior or Girl Scout Ambassador
 

You have completed two Senior or Ambassador Journeys OR earned the Girl Scout Silver Award and completed a Journey
 
Girl Scout Gold Award Steps

Complete your Silver Award and one Senior/Ambassador Journey - OR - two Senior/Ambassador Journeys (including the Take Action Project) to hone the skills you'll need to earn your Gold Award. 

Complete Gold Award Training.   Girl Scouts of New Mexico Trails requires that all girls interested in earning their Gold Award attend training prior to beginning their project.  Training is 1.5 hours long.  Contact us for information on the next scheduled Gold Award training.

Brainstorm to identify an issue you care about—then investigate it thoroughly.

Build your team and find a Project Advisor.

Create a plan and complete your Gold Award Project Proposal.

The Gold Award Committee will review your proposal, provide feedback, and work with you to improve your plan.  The GAC meets every 2nd Thursday of the month at 5:30pm at the Girl Scout Council office. All paperwork needs to be submitted to council two weeks before the committee meets.
The GAC is committed to supporting girls in earning this prestigious award. Contact us to be put on the next agenda.

Once your project is approved, take action to carry out your plans!

Turn in your completed Gold Award Final Report and submit your photo to officially receive your Girl Scout Gold Award.
Gold Award projects should be submitted by September 30th of the Girl Scout year to be honored at the annual awards ceremony.
Graduating Seniors must have their Final Report submitted by August 1. 

The Benefits of Going Gold 
Girl Scout Gold Award recipients do well in life! They rate their general success significantly higher than their peers and report greater success in reaching their goals in many areas.
Higher education and career
Distinguish yourself in the college admissions process
Earn college scholarships
Enter the military one rank higher
Life skills
Be seen as a role model and distinguished leader
Master time management skills
Make the world a better place
Community
Use your vision for change
Tackle an issue, locally or globally
Establish a lifetime network
Create your community legacy with a sustainable solution to a problem

Source:  Girl Scouting Works: The Alumnae Impact Study, a report from the Girl Scout Research Institute, 2012

Gold Award Scholarship
The Girl Scouts of New Mexico Trails (GSNMT) Gold Award Scholarship was established to help Gold Award recipients further thier education. The scholarship is awarded to Girl Scouts who exemplify Girl Scouting ideals. Selections will be based first and foremost on the applicant's contribution to society through service and her desire to continue this contribution through a life attitude of helping others.
By earning the Gold Award, you are also eligilbe to apply for many scholarships and awards.  Click here to learn more! 

Gold Award Forms and Resources
Project Advisor/Volunteer Forms & Resources 
Interested in volunteering for the Gold Award Committee, being a Project Advisor or a volunteer to help girls Go For the Gold?  Contact us!
Please refer to the Gold Award Guide or contact our Gold Award Liaison, Vanessa Wheeler, with any questions or concerns.

2017 - 2018 Gold Award Awardees
Madison T.
Troop 354
Taos
Advocated to raise awareness and stop distracted driving. She worked with her local town officials to put up "No Texting While Driving" signs in her local town of Taos. She also got high school students to sign a pledge to not text and drive.
Taylor T.
Troop 354
Taos
Created shade shelters for a local pet adoption center so that the dogs can enhance their social skills and be better ready for adoption.
Serena B.
Juliette
Los Alamos
Worked with school personnel to create new choir risers for her local high school band community.
Laurel M.
Juliette
Santa Fe
Collaborated with a local botanical garden to design and create an educational space for kids to explore. All features were handmade and nearly all made with materials sourced from nature. Some of the activities include dirt digging pit, branches for fort building, tree stumps burned into checkerboards. Her intent is to help kids be comfortable outdoors to learn and be creative in nature.
Sarai R.
Troop 47
Albuquerque
Designed and painted murals throughout a local homeless shelter. The murals are educational, inspirational and fun. She worked with a group of volunteers and Girl Scout peers to paint up the walls and make the homeless shelter more welcoming.
Samantha M.
Troop 47
Albuquerque
Researched all local resources for a homeless shelter and designed and created a welcoming information center for the homeless to find ways to better help their situations. She also worked with the community to donate couches, chairs, rugs, TVs, pictures and other supplies to make the welcome center a more homely atmosphere.
Karissa B.
Troop 171
Santa Fe
Worked with local elementary schools to implement art. She taught young students art skill building activities to help boost their self esteem through creative art. She is also creating a coloring/activity book that she will donate to the school along with the donated supplies. She is also looking to replicate this same curriculum and have supplies donated to the children in Ghana.