Silver Award Girl Scouts
When Girl Scout Cadettes focus on an issue they care about, learn the facts, and take action to make a difference, they gain the confidence and skills that will catapult them to lifelong success. It all adds up to the Girl Scout Silver Award—the highest honor a Cadette can achieve.  Download the Silver Award guidelines to find out how.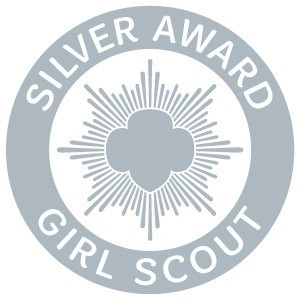 You can pursue your Girl Scout Silver Award if: 

You're in sixth, seventh, or eighth grade (or equivalent)



You're a registered Girl Scout Cadette 
 

You have completed a Cadette Journey
 

Girl Scout Silver Award Steps
 

Identify an issue you care about
 

Build your Girl Scout Silver Award team or decide to go solo
 


Pick your Silver Award project
 


Make a plan and put it into motion
 

Reflect, share your story, and celebrate
Here is a check list of requirements to complete your Silver Award!
Complete a Cadette Journey, either independently or with your Troop.
Make the solution sustainable! Find a partner in the community to work with, either by brainstorming it yourself, or by referring to the GSNMT website for community partners.
Submit a Silver Award Intent Form (form found below)
Submit any applications for fundraising or in kind donations to Council—Keep in mind that you must be approved for fundraising prior to completion of the project. Refer to  Volunteer Essentials for a detailed description of GSNMT's policies.
Complete 50 hours of service on the approved project—documenting all the fun along the way!
Submit your Final Report to the Silver Award Liaison.  
If you need support along the way, remember you can always ask for help and refer to the resources listed below:
Council Silver Award Liaison: Louisa Garcia 505-923-2521
Your Cadette Journey
The Silver Award Documents below
GSNMT Silver Award Support and Paperwork:
Guidelines
Forms
Silver take action projects should be submitted by September 30th of the Girl Scout year to be honored at the annual awards ceremony.