Get a sneak peek at the 2018 GSNMT Camp Book and plan for a GREAT summer at camp! The camp book will be arriving in your mailbox this winter.
Continue >

Snowed In (Cadette, Senior, & Ambassador GS)
Pack your snow boots and head to Rancho del Chaparral for a weekend of snow-filled fun.
Sled and make snowmen, make wintry crafts, drink hot chocolate by the fire, and enjoy a cozy pajama party!!!
Continue >

Extreme Outdoor Ski Weekend
Learn to ski or hit the slopes at Angel Fire Resort! Camp Elliott Barker will be your home base for this fun ski weekend.
Continue >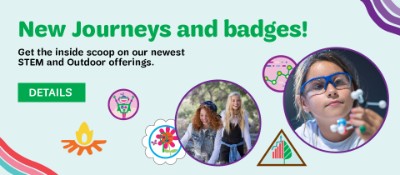 We're always evaluating—and enhancing—what girls do, how girls connect, and how girls grow as Girl Scouts. We listen to what girls, parents, and volunteers tell us about what they like most, and we take action to keep our program relevant and engaging. This year, we added new Journeys and badges in STEM and the outdoors!
Continue >


Girl Scouts are Learning to Lead
17 Feb 2016
I got so excited when my daughter touched a Madagascar hissing roach. I wouldn't be so proud except she had been insisting for weeks that she wouldn't, couldn't, shouldn't have to earn the bug badge on her Girl Scout Brownie troop's agenda this year. Insects are gross.