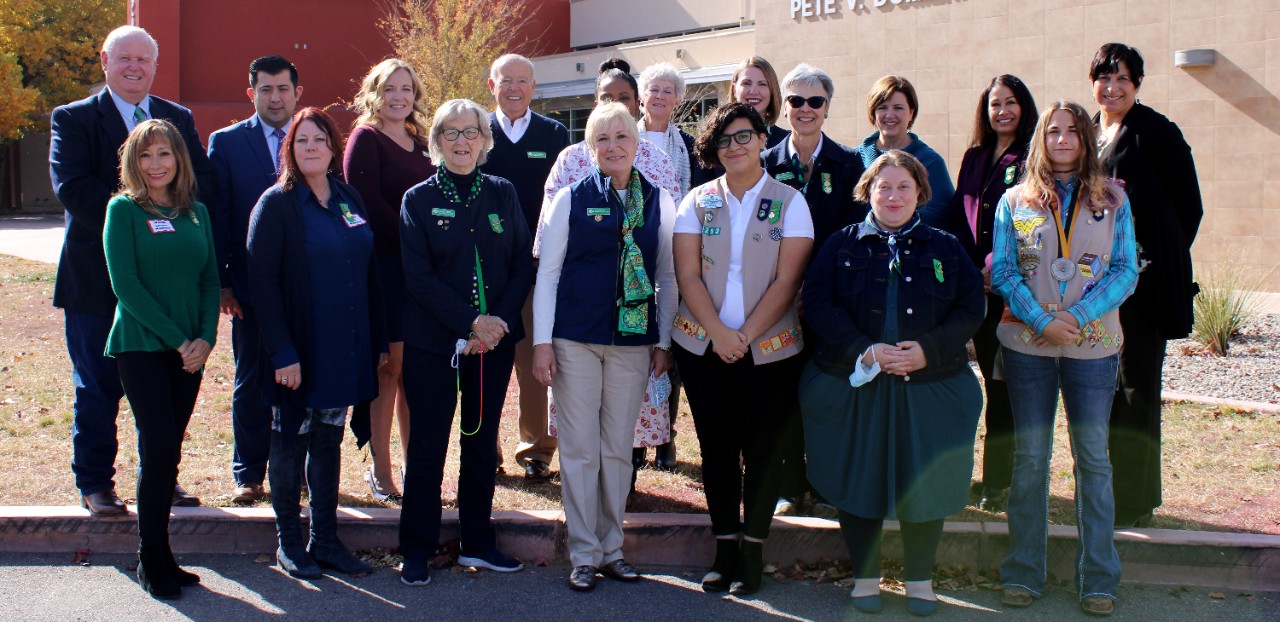 Leadership
Peggy Sanchez Mills 
Chief Executive Officer
Peggy Sanchez Mills is currently the Chief Executive Officer of the Girl Scouts of New Mexico Trails, the premier national organization for girls.  Throughout her 30 year career she has been a strong advocate for programs and public policy promoting the interests of girls and women. 
Prior to her return to her native New Mexico, Ms Sanchez Mills served as the CEO of the YWCA of the United States in Washington D.C.  She additionally served as the first CEO of the National Healthy Start Association.  Prior to her years in DC, she served for 20 years as the CEO for the YWCA of Tampa Bay.  Her accomplishments and achievements in these positions are extensive reflecting the wide range of human services programs she over saw.  These included early childhood care and education, infant mortality, maternal and child health, affordable housing, emergency and transitional housing for women and children, adolescent pregnancy, family support, youth development and child abuse prevention.  Additionally Ms Sanchez Mills has testified and/or worked with the Congress on the reauthorizations of the Violence Against Women, Healthy Start and Adolescent Pregnancy Acts.
Ms. Sanchez Mills holds a Master in Public Administration degree from Golden Gate University and her undergraduate degree from the University of South Florida.  She has received Distinguished Alumni awards from each of these institutions.  She has been honored with many awards including being named one of the Top 80 Hispanic Business Women of the Year by Hispanic Business magazine.
Becky Teague
Board Chair
​Becky has over 23 years of accounting experience and currently is the Assistant Controller for Shared Services for PNM Resources, Inc.  Becky has been a Board Member since 2009 and most recently served as an officer in the capacity of Treasurer.   She has contributed significantly to the financial stability of the Council and has provided critical leadership in areas related to finance, internal controls and fiscal accountability.  She is an asset to this Council.
---
Officers
Becky Teague
Chair of the Board of Directors
Maribeth Thornton
Vice Chair
Marian Wrage
Secretary
Molly Emkes
Treasurer
Peggy Sanchez Mills
CEO
Members at Large
Martha Benn
Karen Bergren
Marti Fournier-Revo
Caroline Garcia
Pamelya Herndon
Mary Hockaday
Mary Homan
Casey Hoyt
Jodi Maheras
Tim Montoya
Susan Patrick
Marny Schantz
Christy Tafoya
John Trujillo
Victoria Hughes
Upcoming Board Meeting Dates
January 23, 2016 - Albuquerque Council Office
March 19, 2016 - Albuquerque Council Office
June 18, 2016 - Rancho del Chaparral
September 24, 2016 - Camp Elliott Barker
November 24, 2016 - Albuquerque
Call for Girl Members of the Board
Do you want to be part of making decisions for our council? Do you want to let someone know that you have an opinion on issues too? Do you want to be an advocate for all Girl Scouts?
If your answers were "YES!" then here's a great opportunity.
Our current bylaws allow two older Girl Scout representatives to be nominated and serve on the board of directors. Those girls elected will participate with equal voice in the discussion and debate during board of director's meetings. 
Girls must be 15 years of age or older for this position. Girl Members of the Board of Directors are usually elected at the November board meeting and serve for a term of two years. Attendance at board meetings is expected. The meetings are held quarterly and take place from 10 a.m. to 2:00 p.m. on a Saturday. Teleconferencing is available. Attendance at the annual meeting in November is also required. 
Act now!
Have the letter of reference (included in the application packet) filled out by your Troop Leader, Assistant Troop Leader, or Service Unit Manager.
Application and reference form must be received in the Albuquerque Council Office no later than June 24, 2016.
Visitor Guidelines.  Visitors are always welcome to voice comments and concerns at GSNMT Board meetings.  However, in order to ensure that all have the opportunities to express themselves, speakers are asked to adhere to the following guidelines:   Visitor Guidelines.
2016 Board Agendas & Summaries

2015 Board Agendas & Summaries

2014 Board Agendas & Summaries

2013 Board Agendas & Summaries

2012 Board Agendas & Summaries

2011 Board Agendas & Summaries