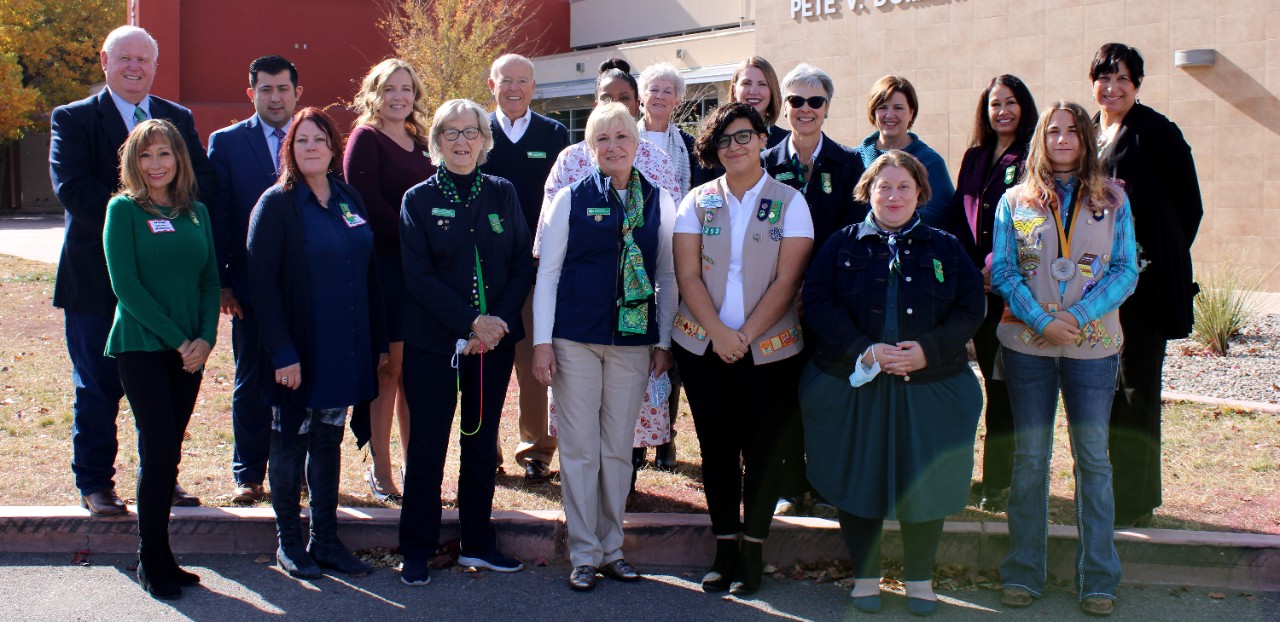 Leadership
Peggy Sanchez Mills 
Chief Executive Officer
Peggy Sanchez Mills is currently the Chief Executive Officer of the Girl Scouts of New Mexico Trails, the premier national organization for girls.  Throughout her 30 year career she has been a strong advocate for programs and public policy promoting the interests of girls and women. 
Prior to her return to her native New Mexico, Ms Sanchez Mills served as the CEO of the YWCA of the United States in Washington D.C.  She additionally served as the first CEO of the National Healthy Start Association.  Prior to her years in DC, she served for 20 years as the CEO for the YWCA of Tampa Bay.  Her accomplishments and achievements in these positions are extensive reflecting the wide range of human services programs she over saw.  These included early childhood care and education, infant mortality, maternal and child health, affordable housing, emergency and transitional housing for women and children, adolescent pregnancy, family support, youth development and child abuse prevention.  Additionally Ms Sanchez Mills has testified and/or worked with the Congress on the reauthorizations of the Violence Against Women, Healthy Start and Adolescent Pregnancy Acts.
Ms. Sanchez Mills holds a Master in Public Administration degree from Golden Gate University and her undergraduate degree from the University of South Florida.  She has received Distinguished Alumni awards from each of these institutions.  She has been honored with many awards including being named one of the Top 80 Hispanic Business Women of the Year by Hispanic Business magazine.
Becky Teague
Board Chair
​Becky has over 23 years of accounting experience and currently is the Assistant Controller for Shared Services for PNM Resources, Inc.  Becky has been a Board Member since 2009 and most recently served as an officer in the capacity of Treasurer.   She has contributed significantly to the financial stability of the Council and has provided critical leadership in areas related to finance, internal controls and fiscal accountability.  She is an asset to this Council.
---
Officers
Becky Teague, Chair of the Board of Directors
Director of Customer Service, PNM
Maribeth Thornton, Vice Chair
Executive Director, UNM Children's Hospital
Marian Wrage, Secretary
Environmental Programs Manager, City of Rio Rancho
Molly Emkes, Treasurer
Retired Director of Finance
Peggy Sanchez Mills, CEO
Members at Large
Martha Benn
Nonprofit Consultant
Karen Bergren
Leadership Illinois
Leticia Bernal
Danielle Bilotta
Student
Linda Deck
Marti Fournier-Revo
Community Organizer
Caroline Garcia
KPMG LLC, Partner
Mary Hockaday
Los Alamos National Laboratory
Mary Homan
NM Gas Company 
Victoria Hughes
Student 
Barbara Leppala
Student

Jodi Maheras
Sandia National Labs 
Tim Montoya
Aztec Machine & Repair
Christy Tafoya
New Mexico State Parks Division
John Trujillo
PNM Resources, Inc.
Duane Tryhall
Visitor Guidelines.  Visitors are always welcome to voice comments and concerns at GSNMT Board meetings.  However, in order to ensure that all have the opportunities to express themselves, speakers are asked to adhere to the following guidelines:  Visitor Guidelines.
2017 Board Agendas & Summaries

2016 Board Agendas & Summaries

2015 Board Agendas & Summaries

2014 Board Agendas & Summaries

2013 Board Agendas & Summaries

2012 Board Agendas & Summaries

2011 Board Agendas & Summaries